teb Interiors Inc. is a full service Interior Design firm offering everything you require from simply choosing paint colours right up to gutting and redoing your entire space. We love to work on every style imaginable.  From the soft, monochromatic, snowy white Breakfast Nook, all the way up to the loud, obnoxious, custom skull wallpapered Basement Dungeon.  
Don't be confused by our lighthearted & fun appearance, we are extremely serious about what we do and attack every job with all of our heart felt passion. There is time for work and time for play and sometimes it's just nice to mix the two a little.
When did design get so uptight? Dude…loosen up a little.      SHEESH!!
"we dare you, we double DOG dare you"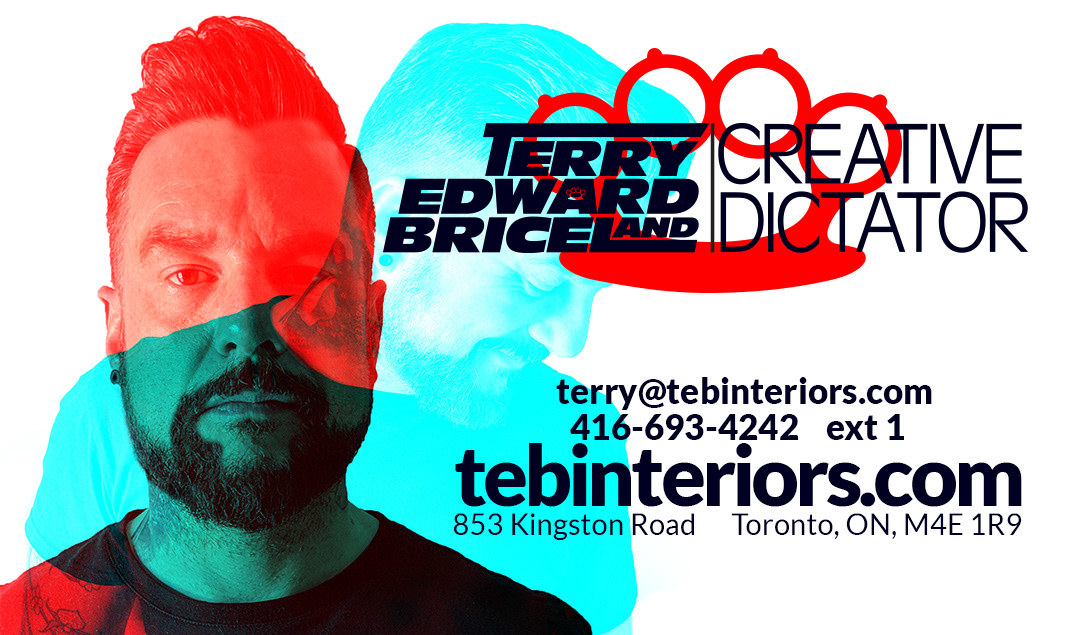 Terry is our CREATIVE DICTATOR and resident 'Pretty Boy'. And by 'Pretty Boy' we don't mean because he is so pretty….which he is by the way…to some….well, to himself. What we mean by 'Pretty Boy' is, he ensures that everything we make has a fresh and modern vibe while injecting that little 'flare' or 'edge' that makes a teb design so outstanding. If you have a specific look that you are after, he's the guy that will figure it out for you and then he'll 'kick it up' a notch...or two...or three.
My love of Fashion and Interior Design developed at a young age.  I have been grinding away at this for over 15 years now and must be doing OK for myself cuz I have been afforded the opportunities to showcase my work on several design shows such as 'Take This House And Sell It!', 'Rooms That Rock', 'Design Interns', 'Disaster D.I.Y.', 'Movie Style', 'Cityline', 'The Marilyn Denis Show', 'Divine Design' and 'Candice Tells All'.  
Some of my stuff has also been in 'Home Décor magazines like Reno & Décor Magazine', 'Canadian Home Trends Magazine', 'House and Home' and 'Style At Home' with an actual 3 page interview in 'Sew News Magazine' where I revealed that I sew in my underwear while listening to loud music.  Me and my big mouth.  
I fell into sewing by accident to be honest, I had these old dining room chairs that were way too 80's looking for me so I decided to slip cover them.  I had a sewing machine in storage that I had received probably 10 years prior to this but had never used.  So I got it out, dusted it off and whipped up some slip covers.  DUDE! for some reason it was super easy and I really actually enjoyed doing it.  So from there I forced my friends to let me make curtains and other fabricy things for their places free of charge.  Some looked wicked and some…..meh…would rather not ever see those again.  One of these friends (Hi Jenni-fur-burger!!)  just happened to need an on camera sewer for a television pilot called 'Designed to Sell' which later changed its title to 'Take This House And Sell It!' and it all just snowballed from there.  
Don't get me wrong, it was frickin hard work and lots of hair pulling and Ramen Noodle dinners (which I still love to this day), but I wouldn't change it for anything.  But I wouldn't do it again either. LOL
After many years making "awesome crap for your home", it occurred to us that we should be taking everything we learned over the years and expand that to the whole house and voila, we give you teb Interiors Inc. It seemed a natural transition to move into full Interior Home design as we have dabbled in virtually every aspect of Interiors but  as  individual items. So  we now show you how to take those amazing individual items and make them work in your entire space. Plus, we still physically make some of the products ourselves, so they are truly and genuinely handmade...and quite frankly...they are fucking spectacular!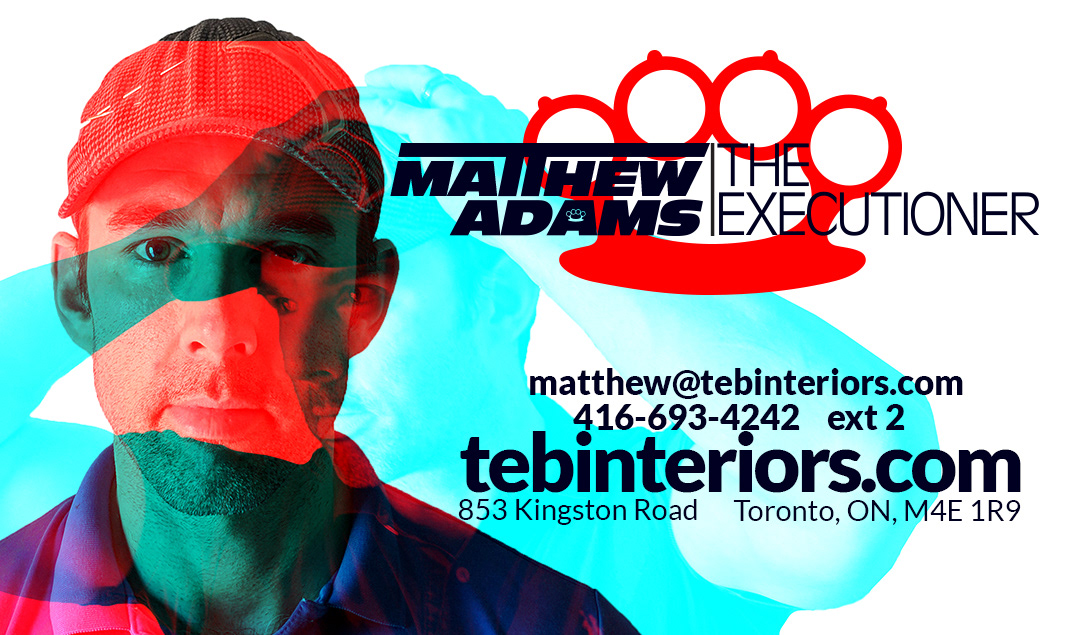 Matthew is the reason we have the high standard of quality that we do. He can and WILL build anything you need or desire. AND, he builds and upholsters it to last a lifetime. Plus he is all big and muscle-y and easy on the eyes. Sorry Ladies, he's dedicated to his awesome wife Emilie and they have two kids Eillie and Gus.. Matthew ensures that all of our furniture is structurally sound and sturdy. Bring us any inspirational image or design you have, he will deconstruct and reconstruct it for you.
I like long walks on the beach, candle lit dinners...oh wait...wrong kind of profile.  Right!  So how did I get here?  Well, I don't have as illustrious a past as on Terry Edward Briceland, but here goes.  My first sewing experience wasn't particularly memorable.  It was a grade 8 Home Economics assignment, a quilted pillow.  It wasn't until a year later that I found what I was looking for.  Boxer shorts.  One of a kind boxers to wear while playing basketball.  I was going to change the world, and I'd like to think that in some small way I did.  You're welcome.
I went down for rowing practice and took them off when I got in the boat.  I left them on the dock on top of my sandals and as I rowed away little did I know, that would be the last time I saw them.  They were gone when I got back.   Shame on you, yeah, you know who you are.  From my boxer shorts beginning my sewing skills developed as my need for one of a kindedness (it's a word I swear) grew.  Super hero rowing suits, to dress shirts, to quilts, to three piece suits, to dresses, and on to home décor when I finally moved out of my mom's house (thanks again mom).
When I'm not sewing I enjoy sports and working out,  mostly so I can enjoy the chips...and the ice cream...and the desserts.
But seriously, I wanted to be original, unique, but in a good way.  As a boy my mom would take me to fabric stores when she was getting things for her own projects, so when I wanted to make my own boxers I knew where to go and what I needed (thanks mom).  They turned out great! So great in fact, that people would steal them, well one person stole one pair.  They were my favorite pair, all the
Winnie the Pooh characters were on them.
Besides my sewing education I did manage to get an academic one as well.  Turns out I was pretty good at rowing which led me state side for my post secondary education.  I attended Princeton University and after six years, (shut it, lots of people go to university for six years…lots!) I graduated.  I know what you're thinking, "I didn't think Princeton had a sewing program". They don't, it's just a certificate program (not really).  I majored in economics and after graduating decided to use my degree in less traditional ways.